Thursday, December 13th, 2018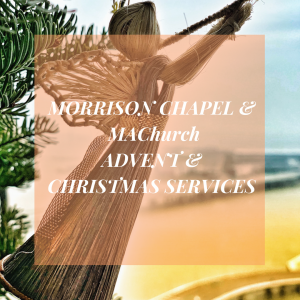 Sun 9th Dec – ADVENT II
– Last day of the Alpha Course at 11am – BAPTISMS at MAChurch &- 8pm Morrison Chapel Service of 9 LESSONS AND CAROLS
With mulled wine in the Morrison Chapel courtyard.
* Sun 16th Dec – ADVENT III
– 11am MAChurch FAMILY CAROL SERVICE with MCs Dawen Wang & Lydia Tang and Kids Nativity Play, Christmas cookies and mulled apple juice
* Sun 23rd Dec – ADVENT IV
– After the 11am Communion
XMAS OUTREACH LUNCH at MAChurch
& – 3pm Filipino Fellowship Xmas Party: with games, songs and gift exchange at MAC School Hall. PLEASE BRING A fun WRAPPED GIFT value 50/60 Mop FOR a game.
* Mon 24th Dec – CHRISTMAS EVE
– 11pm CHRISTMAS
EVE MIDNIGHT MASS with Candlelight at Morrison Chapel
* Tues 25th Dec CHRISTMAS DAY!*
– 9am trad. Communion at MC
& 11am Family Communion at MAC
with 5 minute all-age family/kids sermon on Xmas Day at 11am.
* Mon 31st Dec NEW YEARS EVE
– 11pm WATCH NIGHT Service & MIDNIGHT MASS at Morrison C.
Tuesday, November 6th, 2018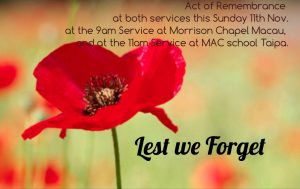 Act of Remembrance
at both services this Sunday 11th / 11th at the
9am
Service at Morrison Chapel Macau, and at the
11am
Service at MAC school Taipa.
The French buglar David Rouault will play Taps and Reveille at both services and wreaths will be laid.
The British Consul Nicola Barrett will lay the wreath at 9am at Morrison Chapel and Mr John Altizer, a US Navy Veteran will lay the wreath at the 11am MAC school Service.
The
11am
service also caters for Kinder and Primary children in Sunday School which runs during the Sermon time. All are Welcome!
Thursday, November 1st, 2018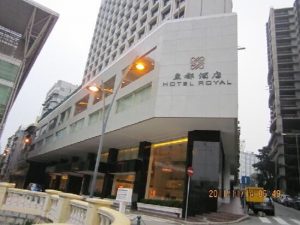 CHANGE OF VENUE THIS SUNDAY 4th Nov.
There are NO SERVICES at Morrison Chapel or MAC School this Sunday 4th Nov due to the Church Camp/ Alpha Weekend away.
INSTEAD we will hold an informal Combined Parish Family Communion Service at 11am at the Hotel Royal, Macau followed by lunch together in the Vitoria room.
Click here
for more news and updates