December 13th, 2018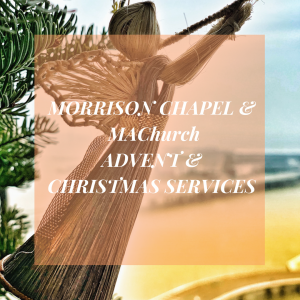 Sun 9th Dec – ADVENT II
– Last day of the Alpha Course at 11am – BAPTISMS at MAChurch &- 8pm Morrison Chapel Service of 9 LESSONS AND CAROLS
With mulled wine in the Morrison Chapel courtyard.
* Sun 16th Dec – ADVENT III
– 11am MAChurch FAMILY CAROL SERVICE with MCs Dawen Wang & Lydia Tang and Kids Nativity Play, Christmas cookies and mulled apple juice
* Sun 23rd Dec – ADVENT IV
– After the 11am Communion
XMAS OUTREACH LUNCH at MAChurch
& – 3pm Filipino Fellowship Xmas Party: with games, songs and gift exchange at MAC School Hall. PLEASE BRING A fun WRAPPED GIFT value 50/60 Mop FOR a game.
* Mon 24th Dec – CHRISTMAS EVE
– 11pm CHRISTMAS
EVE MIDNIGHT MASS with Candlelight at Morrison Chapel
* Tues 25th Dec CHRISTMAS DAY!*
– 9am trad. Communion at MC
& 11am Family Communion at MAC
with 5 minute all-age family/kids sermon on Xmas Day at 11am.
* Mon 31st Dec NEW YEARS EVE
– 11pm WATCH NIGHT Service & MIDNIGHT MASS at Morrison C.